High seas safety training for yachtsmen
Basic Course Informations
"World Sailing" certified (ISAF)
Validity of the certificate for this course: no prescribed validity
Title:
High seas safety training for yachtsmen
Price:
EUR 540.00 plus VAT
EUR 642.60 incl. VAT
Every skipper and crew member should train how to quickly do the right thing in an emergency on the high seas. How to launch the life raft and experience how you move in it on the water, how to apply first aid, to use distress signals, and familiarise themselves with means of stopping leaks, using hand-held fire extinguishers, how to get the yacht ready for a storm and a great deal more. The Hanseatische Yachtschule (HYS) has carried out many ISAF-certified safety training courses in the past. The HYS cooperated with OffTEC for the first time in the 2017 season OffTEC.
With waves up to two metres in height, wind, thunder, lightning and rain by day or by night – the big water basin of the Maritime Training Centre is ideal for training safety techniques and how to correctly handle protective equipment and various lifesaving appliances in all weather conditions. Combined with the section of the course held on the yachts of the Hanseatische Yachtschule in Glücksburg, this safety-training course is particularly realistic.
Friday:
18.30 - 19.30 Greeting and evening meal in the OffTEC canteen
19.30 - 21.00 Theory lessons: Meteorology, behaviour in bad weather conditions
Saturday:
08.00 - 08.45 Breakfast OffTEC canteen
09.00 Start of training
Einteilung der drei Gruppen auf die Trainingsstationen Brandhaus, Übungsbecken und Theorie, je Station sind 2,5 Stunden effektive Ausbildungszeit geplant
12.15 - 13.00 Lunch break
Theorieunterricht
• Verhalten im Seenotfall
• Praktische Unterweisung mit pyrotechnischen Signalmitteln
Diese Einheit wird von DHH-Segellehrern unterrichtet.
Trainingsstation Brandhaus - Praxis
• Handhabung von Feuerlöschern und Löschdecke
Der Unterricht wird von einem erfahrenen Berufsfeuerwehrmann.
Trainingsstation Übungsbecken - Praxis
• Einsatz der persönlichen Rettungsausrüstung
• richtiges Verhalten im Wasser
• Einsteigen und Verhalten in der Rettungsinsel
• Bergen von Personen
Die Übungen werden von DHH- und OFFTEC-Ausbildern geleitet.
18:00 Uhr Absolvierung des Examens 1 (alle Teilnehmer)
18.30 Uhr End of training
19.30 Dinner in a nearby restaurant
Sunday:
07.30 - 08.00 Breakfast in the OffTEC canteen, then leave for the HYS in Glücksburg in your own cars
09.00 Welcome at the HYS, separation into two groups and start of training
Anschließende Aufteilung der Teilnehmer in drei Gruppen
12:00 - 12:45 Uhr Mittagspause
Trainingsinhalte Gruppe 1:
• Praktische Demonstration Sturmsegel
• MOB, Bergung einer Person
Trainingsinhalte Gruppe 2:
• Praktische Demonstration Leckbekämpfung (um realistische Bedingungen zu simulieren, kommt hierbei ein speziell präparierter Bootsrumpf zum Einsatz)
Trainingsinhalte Gruppe 3:
• Theorie verhalten im Seenotfall FUNK und SAR
Diese Einheiten werden von DHH-Segellehrern unterrichtet.
13:45 Uhr Absolvierung des Examens 2 (alle Teilnehmer) und anschließende Ausgabe der Teilnahmebestätigungen
14:00 Uhr Ausbildungsende und Abreise
A minimum of physical fitness is expected. Participants must not have any health-related restrictions, especially of the respiratory tracts, cardiovascular diseases or spinal disorders.
The minimum age for participants is 16 years.
If desired, participants can be issued with a World Sailing certificate at a cost of EUR 15.00.
Lifesaving equipment, lifejackets, oilskins and consumables will be provided by the organisers. Anyone preferring to use his or her own lifejacket is welcome to do so. For hygiene reasons these must however be absolutely clean in order to avoid soiling of the training pool.
€ 475 per person plus cost of accommodation and breakfast, and a charge of € 15 for the World Sailing certificate. We recommend booking accommodation inclusive breakfast at the OffTEC Guest House at the training centre at a cost of € 45 per night for a single room or € 65 for single use of a double room. 1x evening meal and 2x lunches are included in the course price. Participants pay for their own dinner in a nearby restaurant.
Cancellations up to 14 days before the training weekend are free of charge; later cancellations will be charged 90% of the course price and for the accommodation if applicable.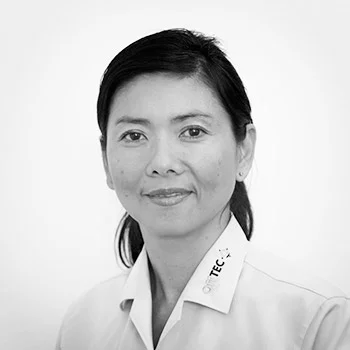 Course contact
Alicia Lee-Johannsen
Booking
Lecker Strasse 7
25917 Enge-Sande
Tel.: +49 4662 89127-13
Fax: +49 4662 89127-88