GWO Basic Safety Training First Aid / DGUV Company First Aider - Refresher
Basic Course Informations
According to GWO Basic Safety Training Standard
Validity of the certificate for this course: 24 months
Title:
GWO BSTR First Aid - Refresher
Price:
EUR 146.00 plus VAT
EUR 173.74 incl. VAT
Duration:
1 day / 8 lessons
In theoretical and practical parts of the course the participants learn the safe and effective application of first aid in the firm, in public and in the work areas of wind turbines.
In accordance with § 10 of the Occupational safety Act (ArbSchG), the employer is obliged to designate persons to perform first aid tasks. In order to be able to perform these tasks safely and responsibly it is necessary to be given sound training and have regular refreshers. In an emergency the first responder is able to recognise dangers and take effective first aid action.
Persons who have already completed a First Aid / Company First Aid course in accordance with GWO/DGUV have the opportunity to refresh their theoretical knowledge and practical skills in order to receive new certification.
Legislation, risks and dangers
Anatomy
Rescue chain
Immediate lifesaving measures
Automated external defibrillator- AED
Wound care
Scenario-based practical exercises for testing first aid measures
Persons working in the construction, operation, maintenance and repair of wind turbines.
Participants in a refresher course must have completed a valid basic training course or a valid refresher course.
In accordance with youth protection legislation, the minimum age for participation is 18 years.
A GWO certificate will be awarded on successful completion of the course.
The GWO certificate are valid for two years.
The content of the GWO training courses held at OffTEC meet the requirements of the Berufsgenossenschaft (Employers' Liability Insurance Association)/DGUV in full. The corresponding DGUV certificates can be issued in addition for a charge of € 25.00 per certificate. Please note that that periods of certificate validity may vary. If you book the 5 GWO modules as a package we grant a 5% discount on the list price.
If required, the course certificates will be uploaded onto the GWO's WINDA database.
Please note that it is only possible to upload the course onto the WINDA database if we are informed of the participant's WINDA-ID by the start of the course.
For refresher courses it is also necessary to provide the expiry date of the preceding certificate.

The certificate cannot be uploaded without this information.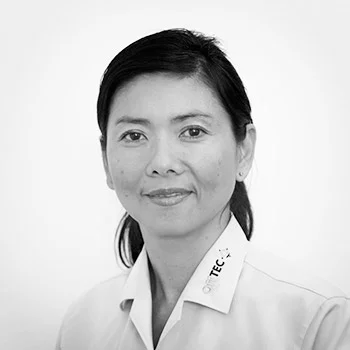 Course contact
Alicia Lee-Johannsen
Booking
Lecker Strasse 7
25917 Enge-Sande
Fon: +49 4662 89127-13
Fax: +49 4662 89127-88